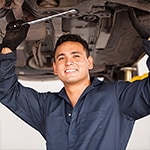 Spring is a time for renewal, and that includes your vehicle! To get the most out of your car this spring, there are five things you should do.
Check the tire pressure and tread depth
Our team at Morong Falmouth Mazda has continually noted that tires that are underinflated or have worn-out treads can cause a hefty increase in gas mileage...