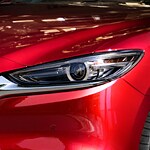 Drivers who have always wanted to drive in style will look forward to what the Mazda6 has to offer. In addition to its impressive new handling and power features, interested customers can look forward to a design experience unlike any other.
The vehicle a broad variety of premium materials in its construction, including beautiful Nappa leather and exquisite Japanese Sen wood. The newest Signature trim was developed by dedicated Mazda artisans to make every drive as luxurious as possible. The elevated interior experience stays with you, whether you are out on errands or are interested in lengthy excursions.
Have you always wanted to see just how well the Mazda6 can handle for yourself? Residents of Falmouth, ME should be sure to visit their local Morong Falmouth Mazda. With helpful staff always on call and a massive selection to choose from, drivers can look forward to an unparalleled dealership experience.