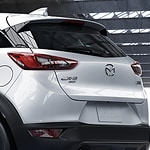 As one of the premier subcompact crossovers available to car buyers today, the new Mazda CX-3 has the design features that people look for in a modern and appealing vehicle. These features are geared toward driver enjoyment and convenience.
Take, for example, the Mazda Connect technology. This built-in design feature allows you to pair your preferred mobile device to your Mazda CX-3 subcompact crossover. It keeps you connected to everyone in your contact list and lets you make hands-free phone calls and text messages.
The new Mazda CX-3 also comes with an active driver display system that displays relevant driving information on the inside of your windshield. It shows you at what speed you are driving, what the posted speed limit is, and how many miles that you have driven. It spares you from looking down at the instrument panel for this information so you can keep your eyes on the roads of Falmouth, ME.